Thousand Oaks Barrel Company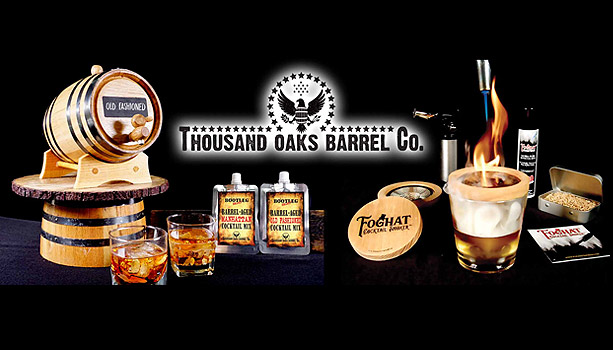 Thousand Oaks Barrel Company…Founded in 1999 in Thousand Oaks, California, the Thousand Oaks Barrel Co. quickly became the leading manufacturer of barrels for accelerated aging. The company moved to the East Coast a little more than 12 years ago and found it's home in in Old Town Manassas, a historic Civil War town outside Washington D.C..
Oak Barrels
With facilities in Manassas, VA, craftsmen produce all types of barrels and related products. The company produces over 100,000 barrels a year. Businesses and home enthusiasts use handmade barrels for making and aging wine, whiskey, bourbon and tequila or for marketing and other professional purposes.
The Thousand Oaks Barrel Co. specializes in premium quality American White Oak Barrels for aging Wine, Beer, Tequila, Bourbon, Whiskey, Rum, Scotch, Brandy, Cognac, Wine Vinegar or any spirit that benefits from aging. Our barrels are hand crafted for the home-winemaker, brewer, or distiller and make a wonderful centerpiece for the bar or kitchen. Every barrel is carefully made using only American White Oak and each with a medium char or toast. Barrels range in size from 1, 2, 3, 5, 10, and 20 liter sizes. Hoops styles are available in black steel, steel, or brass and each barrel ships with the stand, bung and spigot at no extra charge. Our craftsman offer the highest quality product with exceptional service. We value our customers and welcome your questions on barrel aging.
Our Products
Thousand Oaks Barrel Co. sells products as a wholesaler, online and through festivals. Products for sale on our website include shot glasses, bottles, signs, make-your-own kits and barrel furnishings, including tables, ice chests and serving sets.
Aging and Serving
Based in Virginia, a bloodline of bootleggers past, Thousand Oak Barrel Co. brings the tools to age and serve your spirits to your home. All products offer a variety of options for customizing and branding with your name or logo. With quantity pricing and easy personalization, restaurants and bars can stock up on the latest trends in bar gear to include barrels for aging cocktails, shot paddles, pint pits and gift shop flasks.
Thousand Oaks Barrel Company Catalogs
Thousand Oaks Barrel Company 2023 Catalog
Shop Our Lines On-Line
Log In or Sign Up For An Account Here