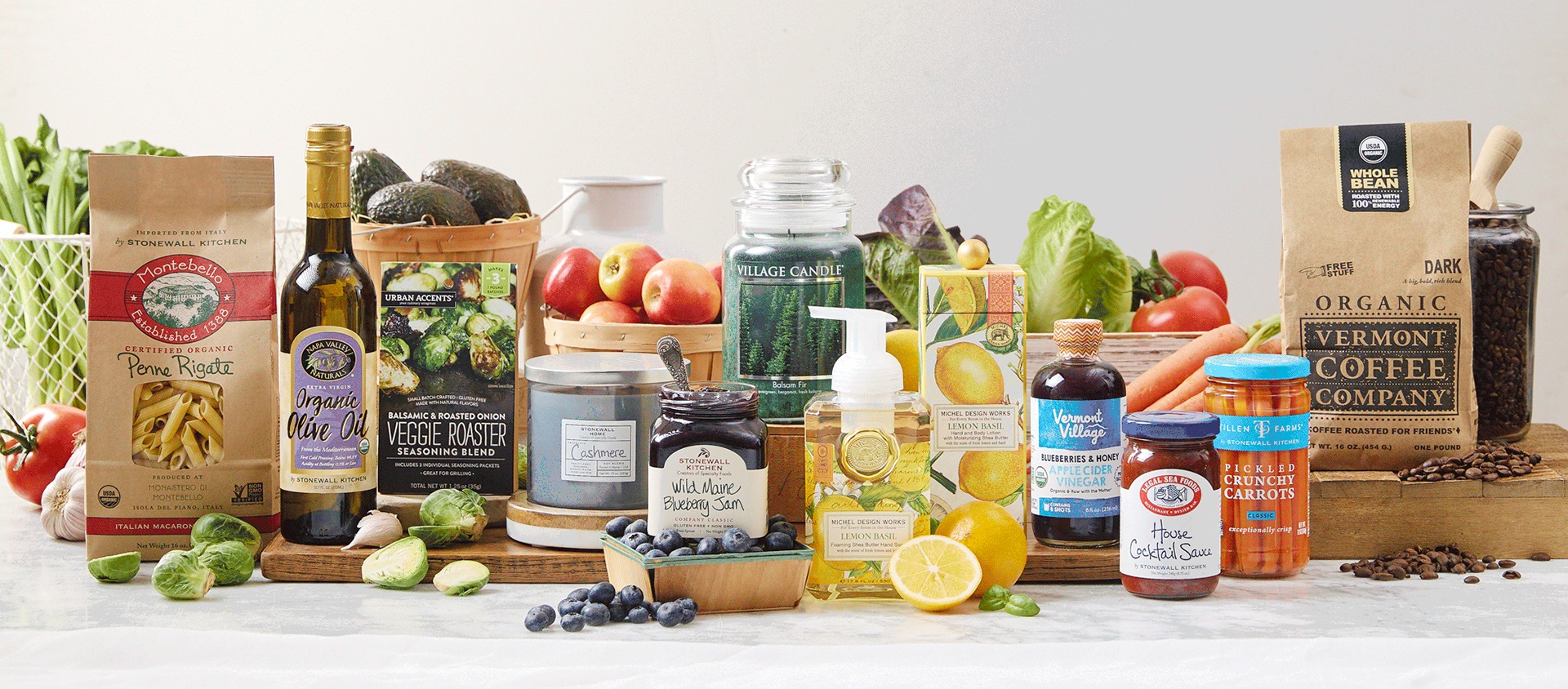 At Cliff Price and Company, we take great pleasure in offering our customers a diverse array of exceptional brands that elevate everyday experiences. Today, we want to highlight some of the top-selling products from a selection of our esteemed brands. Get ready to embark on a culinary journey as we showcase the delectable delights from Stonewall Kitchen, Michel Design Works, Tillen Farms, Urban Accents, Montebello, Village Candle, and Vermont Coffee Company.
Stonewall Kitchen:
Wild Maine Blueberry Jam: Bursting with plump, juicy blueberries, this jam adds a delightful sweetness to your morning toast, pancakes, or desserts.
Farmhouse Pancake & Waffle Mix: Craft fluffy and flavorful pancakes and waffles with this mix that combines wholesome ingredients and a secret blend of flavors.
Roasted Garlic Aioli: Elevate your sandwiches, burgers, and dips with the creamy and garlicky goodness of this aioli.
Spicy Chili Bacon Jam: Add a fiery kick to your dishes with this bold and savory spread that combines smoky bacon with a hint of spice.
Maple Bacon Onion Jam: Indulge in the irresistible combination of sweet maple syrup, caramelized onions, and real bacon in this delectable jam.
Truffle Aioli: Delight your taste buds with the luxurious flavors of black summer truffles infused into a creamy aioli.
Maine Sea Salt Caramel Sauce: Satisfy your sweet tooth with this luscious sauce that combines the perfect balance of sea salt and caramel.
Michel Design Works:
Foaming Hand Soap: Pamper your hands with luxurious and beautifully scented foaming hand soaps that leave your skin feeling refreshed and nourished.
Soy Wax Candles: Fill your space with enchanting fragrances and the warm glow of these hand-poured soy wax candles that create an inviting ambiance.
Triple-Milled Bar Soap: Experience the indulgence of triple-milled, vegetable-based bar soaps that cleanse and moisturize your skin while leaving a lingering fragrance.
Kitchen Towels: Add a touch of style and functionality to your kitchen with these vibrant and absorbent kitchen towels featuring captivating designs.
Napkins and Tableware: Elevate your table setting with Michel Design Works' elegant napkins and tableware, featuring exquisite patterns and attention to detail.
Tillen Farms:
Bada Bing Cherries: These plump and juicy cherries, soaked in rich syrup, are perfect for cocktails, desserts, or simply enjoying as a sweet treat.
Pickled Crispy Asparagus: Experience the crunch and tang of Tillen Farms' pickled asparagus, a versatile and delightful addition to salads, antipasto platters, and more.
Fire & Spiced Maraschino Cherries: Elevate your cocktail game with these cherries infused with a touch of spice and fire, adding a flavorful twist to your favorite drinks.
Urban Accents:
Global Taco Simmer Sauces: Spice up your taco night with Urban Accents' authentic and flavorful simmer sauces inspired by global cuisines.
Popcorn Seasonings: Elevate your movie nights with a variety of creative and mouthwatering popcorn seasonings that take this classic snack to new heights.
Grilling Rubs and Seasonings: Bring out the best flavors in your grilled dishes with Urban Accents' selection of expertly crafted grilling rubs and seasonings.
Montebello:
Organic Pasta: Experience the authentic taste and texture of traditional Italian pasta with Montebello's organic pasta made from the finest durum wheat.
Organic Extra Virgin Olive Oil: Infuse your dishes with the richness of Montebello's organic extra virgin olive oil, carefully crafted from hand-selected olives.
Village Candle:
Soy Wax Candles: Fill your living space with enticing fragrances and the warm glow of Village Candle's soy wax candles, handcrafted with meticulous attention to detail.
Reed Diffusers: Enjoy long-lasting fragrance in any room with Village Candle's reed diffusers, elegantly designed to complement your decor.
Vermont Coffee Company:
Organic Whole Bean Coffee: Awaken your senses with the distinct flavors and aromas of Vermont Coffee Company's organic, fair-trade whole bean coffee.
Cold Brew Concentrate: Indulge in a refreshing and smooth cup of cold brew coffee made from Vermont Coffee Company's perfectly brewed concentrate.
These are just a few of the top-selling products from the exceptional brands we proudly offer at Cliff Price and Company. Explore our full selection today to discover the wide range of delectable treats, delightful scents, and culinary treasures that will enhance your everyday moments.