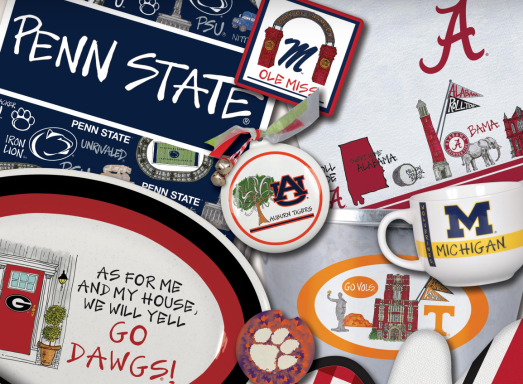 In today's blog, we're delving into the realm of collegiate products, shining a spotlight on top-selling items from Magnolia Lane, Glory Haus, Little Birdie, Canvas Jewelry, and Lang. For those of you with a love for your alma mater or a die-hard school spirit, these brands offer beautifully designed, high-quality products that will let your pride shine through.
Magnolia Lane's Collegiate Collection
Magnolia Lane's Collegiate Collection is a standout for quality, style, and school spirit. The standout Collegiate Mug series, adorned with university logos and vibrant colors, kickstarts every day with school pride.
The highlight, however, is their extensive tailgating collection. Collegiate Serving Platters and matching Collegiate Dip Chillers, bright and durable Collegiate Flags, functional and stylish Collegiate Drinkware line, and the must-have Collegiate Grilling Accessories— each item is designed to enhance your game-day experience while proudly displaying your college's emblem and colors.
Glory Haus captures life's sparkling moments with their Collegiate Line. The bestselling Glory Haus Collegiate Canvas Art breathes life into your space with hand-painted representations of various colleges.
Their practical and decorative Collegiate Framed Boards, high-quality ceramic Collegiate Coasters, Collegiate Picture Frames, and festive Collegiate Ornaments— each product captures the spirit of college life. Don't miss their Collegiate Door Hangers, a bold declaration of school spirit right at your doorstep.
Little Birdie's Collegiate Range
Little Birdie provides a unique, handmade touch to college products. The top-selling Little Birdie Collegiate Tote Bag is a durable, practical way to carry your essentials while showing off your college emblem and colors. Also, their University Pillows, stitched with beautiful university symbols, add comfort and school spirit to any dorm room or home.
Canvas Style's College Collection
Canvas Style offers a stylish way to wear your college pride. Their bestseller, the Canvas Collegiate Pendant Necklace, is a delicate piece crafted from high-quality metals and bearing the logo of your favorite college. Equally popular are the Collegiate Charm Bracelets, each featuring unique charms symbolizing different schools— a beautiful statement of school pride.
Lang Company is renowned for its artistic and high-quality products. The Collegiate Collection is no exception, with items like the Lang Collegiate Wall Calendar showcasing beautiful illustrations and key college dates. The Collegiate Stationery Set, including note cards, envelopes, and a pen featuring your favorite college logo, is another must-have for any college enthusiast.
Each of these brands offers unique and stylish ways to showcase your college pride. They provide a perfect balance of functionality, aesthetics, and spirit that make their products not just fan favorites, but must-haves for anyone with a connection to a particular college or university.
At Cliff Price & Company, we're proud to bring you the very best. Stay tuned for more updates on our blog, and be sure to check out these fantastic collegiate collections from Magnolia Lane, Glory Haus, Little Birdie, Canvas Style, and Lang!