"Everyone here in Shelby County is hard working, loving and open minded to small and big businesses."
– Lacie Owner of Payne & Payne N' Suchlike
___________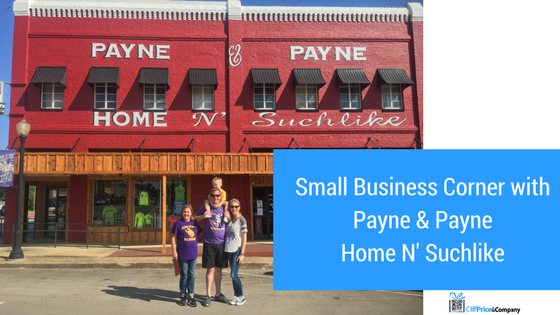 In today's blog post, we are spotlighting small business, Payne & Payne Home N' Suchlike located in Center, TX.
At Cliff Price & Company, we strongly believe in supporting our local, small businesses by offering quality products and valuable resources to ensure retailer success.
Check out our interview with owner, Lacie!
CP: When was Payne and Payne established?
LP: Payne & Payne was first established in 1915 as Payne & Payne Hardware N' Suchlike, it was family owned until they had to shut the doors in 1996.
CP: What was the idea or inspiration to re-open Payne and Payne Home 'N' Suchlike?
LP: The inspiration of the shop came from the hardware store, as the building is still in the family and anchors the Northwest corner of the downtown square in Center, TX. Everyone in Shelby has wonderful memories of the shop so Josh and I thought, why not bring back the building and the nostalgia.
CP: What is your favorite part about being a small business owner?
LP: My favorite part of being a small business owner is that each day is different, but the people are always wonderful. I am so lucky and blessed that the Lord directed my path to be in Shelby County and help bring back something that has been missed for over twenty years.
CP: What kind of products are sold at Payne and Payne?
LP: I have all different products hence, "Suchlike"… I carry Michele Design Works, soap, bath and body products, Glory Haus and other wonderful items for men, women, tweens and babies!
CP: How would you define the community in your area?
LP: I would define my community as "movers and shakers". We have a thriving Chamber of Commerce that is forward thinking and supports all businesses.
Everyone in Shelby County treats you like family and steps in to help one another during bad and wonderful times. I love my community!
We appreciate Payne & Payne N' Suchlike for taking the time to share their story, be sure to check them out on Instagram and Facebook!