Can you believe the holidays are already here? Before you know it, we'll be getting ready for Thanksgiving dinner and Black Friday shopping! Which brings up the topic of in-Store events and why they are important in growing sales and establishing customer loyalty. When customers visit your store, they make the decision to shop with you, so along with having excellent customer service, try having a few in-store events to show your appreciation.
What are the benefits of in-store events? Check out our ideas below!
You Meet New Faces
During the holidays, people are traveling to visit their families possibly looking for unique gifts. Having an event, such as cookies and hot cocoa with DEI's ceramic "Pass-Along Platter", can increase the foot traffic in your store leading to new customers. Want to step it up a notch? Offer fresh, warm cookies while customers shop and look around!
Establish Brand Loyalty and Awareness
When having an event, shoppers have the opportunity to linger and get to know the products you carry. For instance, they may want to add some finishing touches to their holiday decor, so adding the Christmas Time Soy Wax Candle from Michel Design Works will definitely bring holiday cheer to their guests!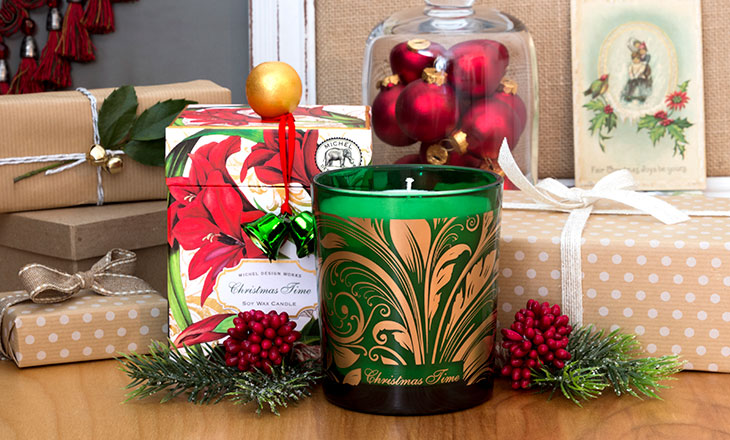 Increased Sales
In-store events are great opportunities to increase your sales, especially during the holiday season! Shopping can be tiring, so use this chance to have a mini-pampering event for both men and women. Do an in-store demo of the "Peppermint & Eucalyptus Foot Care" collection from Buff Bomb Bar or let the guys experience the winter essentials from Duke Cannon's "Bloody Knuckles Hand Repair Balm, Face Lotion and Tactical Lip Protectant". Getting the customer to experience the product, increases the chance of them purchasing it.
Encourage Your Customers to Share Their Experience
If you normally don't use social media (Facebook, Instagram, Twitter, etc.) to promote your business, now is the time to start doing so. Promoting your event before, during and after via social media, will give your business 10x more engagement. Get your shoppers involved too by having them share their experience using a special hashtag (for example #HolidayShopping2018) and offer them an incentive when they do, such as 10% off their purchase.
After reading these tips, we hope that you feel better prepared to start having in-store events! Feel free to share, comment or like this post, if it was helpful. Thank you for reading.